Swiftsure congratulates Ray Maly of Whisper who is our final winner of beer tickets. Ray will enjoy receiving $50 worth of tickets for Swiftsure Session Ale by our Gold Sponsor, Spinnakers – best beer in Victoria.  Ray and his crew look forward to experiencing Swiftsure's Juan de Fuca race AND the pre-race fun ashore.  Ray's comments "Thank You, Thank You, Thank You!!!   We are looking forward to meeting you, savoring the brews, and enjoying another wonderful Swiftsure experience.  See You in Victoria!!!"
The EarlyBird entry ended at midnight on May 5th but full registration can still be made online by clicking the Register Now button at Swiftsure.org. Paper registration is also available online at the Swiftsure Registration page.  A racecourse for every level of challenge, from the single-day Swiftsure Inshore Classic to the full Swiftsure Lightship Classic. The Notices of Race for all courses is found under the Race Info tab.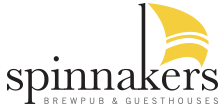 As of midnight on May 5th, 158 yachts were registered to race Swiftsure.  We look forward to time with our fellow racers and friends and families ashore, then great competition on the Strait of Juan de Fuca.
Vern Burkhardt
Chair
Swiftsure International Yacht Race