Swiftsure Celebrates 2016 Sponsors at a Luncheon

Swiftsure International Yacht Race celebrates our richly engaged sponsors each year. One event we hold in the spring, just before the race organising becomes frenetic.
The 2016 Swiftsure Sponsorship Luncheon was held at the Royal Victoria Yacht Club on April 13th, where we feted sponsors, recognising their contributions to the success of Swiftsure and introducing them to each other. This year, we enjoyed the company of RVYC's Commodore Dunnery Best, Vice Commodore Gordon Wilkinson and several members of the Swiftsure Committee. Event Chair Vern Burkhardt engaged the guests with an outline of the race, what's new and exciting for 2016, and an invitation to join in upcoming VIP festivities such as experiencing the start of Swiftsure from aboard either a Royal Canadian Navy Kingston class vessel, HMCS Whitehorse this year, or Swiftsure sponsor Prince of Whales' Whale Watching's Ocean Magic – both exceptional experiences.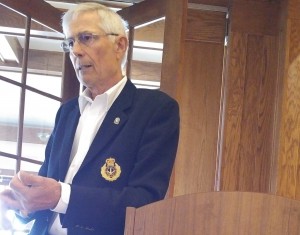 Swiftsure's sponsors are very engaged in their enterprises, and still they find it in their heart to continue to support the race, understanding that without their generosity in so many ways, this race could not happen.
And so, it is with deep gratitude, Swiftsure thanks our committed sponsors. Some have been with us since the 1950's and all are amazing to know – we gladly ask you to support their businesses.
Below are photographs of some of our incredible sponsors!
Thanks you Swiftsure 2016 sponsors!