Why Should You Enter by February 28? Prize Draws!
The EarlyBird entry fee is available until May 5th but…
Skippers, if you register to race in Swiftsure 2014 before midnight on February 28th your name will go into a draw to win $100 worth of pre-paid beer tickets, which can be used on May 22nd and/or 23rd. There will be two smaller draws among all skippers who are EarlyBirds registered by March 31st and by April 30th. Register in February for a chance in all three draws! Don't miss out—take advantage of the EarlyBird entry fee and a chance to win and enjoy Spinnakers' Swiftsure Session Ale. Why are we offering prizes? Everybody loves prizes.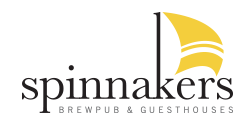 You can register online by clicking on the Register Now button at Swiftsure.org. If you wish, you can fill out a paper registration form which is available online at the Swiftsure Registration page.
There is a racecourse for every taste and level of challenge. The Notices of Race for the three long courses (Swiftsure Lightship Classic, Cape Flattery, and Juan de Fuca) and for the Swiftsure Inshore Classic have been published under the Race Info tab.
Don't miss out.  Register by midnight on February 28th to qualify.
Vern Burkhardt
Chair
Swiftsure International Yacht Race