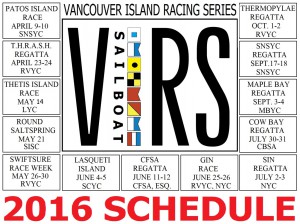 Welcome to year FIVE of the VIRS (Vancouver Island Racing Series)! This year the number of scoring races has been increased to lucky thirteen, with the inclusion of the GIN (Gulf Islands Nanaimo) Race. The season kicks off, as always, with Sidney North Saanich Yacht Club's Patos Island Race…or does it? West Van's Southern Straits race, two weeks earlier this year, could be used as a Wild Card scoring race in the VIRS as in previous years. How about that!
Although scoring remains largely the same this year, there are a couple of exciting additions for 2016. The flags in the VIRS logo signal a change from KEELBOAT to SAILBOAT. This represents the inclusion of multihulls in VIRS scoring for the first time. Swiftsure and Cow Bay have always featured strong multihull participation and the hope is to attract multi fleets to other regattas as well. Secondly, the Island Fleet Captains have agreed to resurrect and rededicate the Island Interclub Trophy for the VIRS CLUB CHAMPIONSHIP… stay tuned!
The VIRS was established to promote regattas and races on Vancouver Island and throughout the region, by encouraging interclub competition and friendly rivalries between racers. Each season, the VIRS Overall trophy, donated by Trotac Marine, is awarded to the Top scoring boat and skipper and displayed at that skippers club for the year. The Top Ten is also hotly contested and recognized at the series closing Thermopylae Regatta, hosted by Royal Victoria Yacht Club.
Vancouver Island Racing Series was and is the brainchild of Alex Fox; sailor, writer, and racer extraordinaire. Follow V.I.R.S. on FaceBook. Thank Alex for having the focus and skill to execute this vision.