Swiftsure & Vic-Maui 2016
Swiftsure International Yacht Race and Vic-Maui International Yacht Race have a long history of mutual support. Swiftsure is among the qualifying races for participating in Vic-Maui. The Royal Victoria Yacht Club, Swiftsure's host club, assists with Vic-Maui race support in Victoria.
The Royal Vancouver Yacht Club and Lahaina Yacht Club co-host the Vic-Maui International Yacht Race.
David Sutcliffe, Event Chair of the Vic-Maui Race, will be skippering his newly acquired Kinetic V, a Transpac 52.He previously skippered Kinetic IV, a Beneteau First 47.7 in the 2004, 2006, 2010, 2012 and 2014 Vic-Maui races, Following the 2006 Vic-Maui, Kinetic sailed onward to Australia, completed the 2006 Sydney Hobart race and then sailed home, a round trip of over 17,000 nautical miles. Kinetic's 2010 Vic-Maui overall race-winning crew included five adults and four teens, and Kinetic's 2012 Vic-Maui team earned another division win.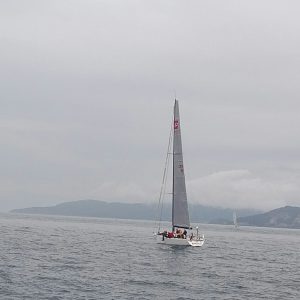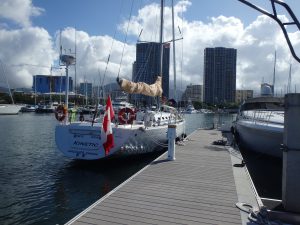 Following is an excerpt from the Vic Maui Shackles and Cotterpins June 19, 2016 newsletter:
Vic-Maui Fleet Performs at Swiftsure!
• Nineteen of the twenty-two 2016 Vic-Maui boats sailed in Swiftsure this year. Congratulations to Longboard and Valkyrie for their overall wins in their respective races.
• In the Swiftsure Lightship Classic Race:
o Longboard took First in PHRF division 1 and the Overall win
o Mountain took First in ORC division 1
o Alegria X also competed
• In the Hein Bank Race (ORC):
o Valkyrie took First in division 1 and the Overall win
o Kinetic V took Third in division 1
o CrossFire, Westerly, Kraken also competed
• In the Cape Flattery Race:
o Equus and String Theory took Second and Third in division 1 of the PHRF Heavy Class
o Starblazer, Salient, Red Sheilla, Miles, Amiskwi, Turnagain also competed
• In the Juan de Fuca Race:
o Rain Drop took Third in division 1 of the PHRF Heavy Class
o Ion, Canard also competed
Vern Burkhardt, Event Chair for Swiftsure, will again race Vic-Maui, the 50th year of the race event. This will be Vern's 11th Vic-Maui raced and Maui-Vic return. Vern wrote the following in 2002 while in the Vic-Maui Race – equally relevant today as it was then:
Night is a time for reflection—
reflection of the
meaning of life, reflection on
how vast the ocean is and how
small we are by comparison, reflection on the real values and
priorities one should follow,
reflection on how wonderful it is
to be removed
from the crises of the world,
most of which cannot be fixed
within one's lifetime.
Since 2011 the event chairs of both races have also instructed Sail Canada's Offshore Personal Survival Course (Safety at Sea – Sea Survival) in British Columbia. It is for experienced sailors who are participating in distance and offshore races and passages.