Swiftsure 2016 Results are up!
The 2016 Swiftsure International Yacht Race provisional results are now posted.
Why 'provisional'? Results require approval by Swiftsure's Principal Race Officer, IRO John Abel (International Race Officer). But we're sharing these with you now – final approved results will come soon.
Why do they take a while to post? Well – the race only officially finished at 6 AM on Monday, May 30. With over 200 boats, if even one has a gap in information (missing rounding times) these must be resolved before we can post any race results.
Who crossed the line first (Line Honours) in Swiftsure Lightship Classic? Rage, a Schooner Creek Wylie 70 – she now has the record for most Line Honours of any boat in the history of the race. Rage raced with new owner/skipper Dave Raney AND previous owner/designer Steve Rander. Steve and Dave's wives, Nancy and Denise, were aboard the Prince of Whales Ocean Magic to observe Rage and others making their way through Race Passage.
Who finished last within the timeline of 6 AM, Monday? Tessana, a JJ Taylor Contessa 32 from Cascadia Yacht Club skippered by Warren Kimmitt. Why is it usually a Swiftsure Lightship Classic boat that's the last to finish? It's the longest course and by far the most challenging. Tessana finished at 04:44:35 on Monday morning.
Who won the Swiftsure Inshore Classic Overall? Dennis Woodward's Zephyr, a Cal 29 from Swiftsure's host Royal Victoria Yacht Club.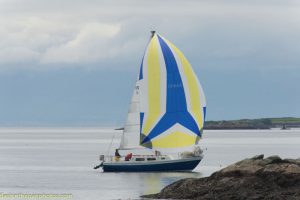 Though no records were broken with the race, every racer we heard from told us it was a fantastic race. Some light winds, some biggish winds, some holes, great spinnaker runs, calm seas, very little rain. Seabirds, whales, harbour dolphins, porpoises, elephant seals and sea lions.
Swiftsure – Always a Challenge