Press Release: Tritium Determined to beat Race Record
Press Release; Swiftsure International Yacht Race Proudly Hosted by the Royal Victoria Yacht Club
The Biggest Fastest Boats come to contest the Premier Yacht Race in the Pacific Northwest
Victoria, BC 15 April, 2016: John Sangmeister from Long Beach, California, and his 77 foot trimaran "Tritium", has entered the 2016 Swiftsure International Yacht Race in hopes of breaking the almost two decades old race record.
In 1997, ex-America's Cup catamaran "Stars & Stripes" set a lightning-fast elapsed time record of 14 hours 35 minutes and 29 seconds over the 138.2 nautical mile course to Swiftsure Bank and back to Victoria. Tritium is a VPLP 73, with an overall length of 77 feet and a beam of 60 feet. Tritium's name comes from John's first boat "Hydrogen II" as homage to his father's Little America's Cup entrant "Hydrogen." Tritium is H3 and is the radioactive isotope of Hydrogen, which seemed fitting. The boat has been raced previously as "Bonduelle" for Jean Le Cam and more recently Artemis Racing modified the boat as a test platform for the 2013 America's Cup. The VPLP design is created by a French naval architecture firm formed in 1983 and responsible for designing some of the world's most innovative racing boats. Their designs presently hold many of the World Speed Sailing records.
So far this year, Swiftsure has attracted the best fleet of offshore racing yachts ever gathered in the Pacific Northwest. There are 4 boats 70 feet or over as well as 3 Trans Pac 52's and a Reichel/Pugh 55, all with the potential to break the existing records. Registrations are well ahead of prior years and easily on track for over 200 race yachts participating in 5 racecourses.
Vern Burkhardt, Event Chairperson of the Swiftsure International Yacht Race, stated, "This will be a year not to miss! With all these large and fast boats lined up on the start line it will be a grand spectac."
You can view all the boats – large and small – up close prior to the race in Victoria's Inner Harbour starting May 26th. Then join us at Clover Point for an excellent view of the five starts Saturday May 28th from 830 am – the gun for the first start will be at 9 am. And enjoy a pancake breakfast put on by the Central Saanich Lions Club while you watch the starts. Swiftsure International Yacht Race, Always a Challenge!
Enjoy this video insight of Tritium's challenge.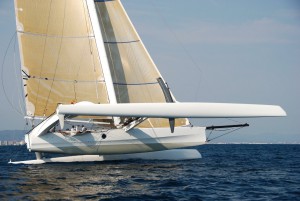 Contact: Chad Grice
Swiftsure International Yacht Race
Phone 250.589.0654
publicity@swiftsure.org