UK Sailmakers Northwest Owners, Stuart & Joy Dahlgren
UK Sailmakers Northwest provides new sails, sail repairs, upgrades and modifications for clients throughout Western Canada, US Pacific Northwest and Alaska. They also specialize in marine canvas and industrial sewing projects.
UK Sails is a full service loft located in Sidney, BC and Anacortes, WA. These two anchor locations are supported by regional representatives based throughout their service area. Many clients also choose to use the affordable option of shipping their sails back and forth for servicing.
With a multi-decade history of providing top-quality service to west coast sailors, whether they spend their time on the water racing or cruising.  Their team's wealth of local knowledge and experience is combined with the industry-leading technology and production capabilities of the International UK Sailmakers Group to ensure they are offering their clients the best value for their money.
UK Sailmakers Northwest is a long-time supporter of Swiftsure Yacht Race. Please contact UK Sailmakers Northwest for all your sail needs!
See them at their custom-built loft at 2212 Harbour Road, Sidney, BC or call 1.800.563.7245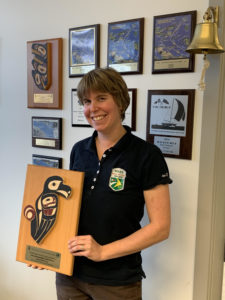 Joy Dahlgren accepting the Gold Level Swiftsure Sponsor Award 2019 for UK Sailmakers.