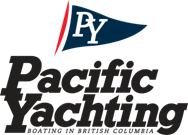 Pacific Yachting Magazine; power or sail, we help you get more from your time on the water.
Pacific Yachting has supported Swiftsure for many years and we are grateful.
Kathy & Mark Moore continue to be very strong supporters of Swiftsure; here happily accepting Pacific Yachting's 2017 Swiftsure Sponsorship plaque.