The following offer special rates for 2018 Swiftsure competitors and their family and friends. Please show your support by selecting a Swiftsure Preferred Accommodation Partner for your stay.
For our American racers, family and friends, US$ exchange to Canadian$ is a real bargain!
---
Strathcona Hotel room rates for Swiftsure 2018; the following room rates and types are available to Swiftsure racers, their family and friends for May 23 – May 30:
One queen bed – $105.00/night plus taxes (max occupancy 2 people)
Two twin beds (two singles)- $105.00/night plus taxes (max occupancy 2 people)
Double Bed/Twin Bed – $110.00/night plus taxes (max occupancy 3 people)
Queen & Sofa Pullout – $115.00 /night plus taxes (max occupancy 3 people)
Two Queen beds- $125.00/night plus taxes (max occupancy 4 people)
All rates based on single-double occupancy; add $20.00 plus taxes per person if rooms can accommodate more than two people.
All rooms include complimentary Wi-Fi as well as continental breakfast from 7:30-10:00 AM. Hotel is 100% non-smoking. Parking is available at a nightly rate of $10.00 per car. Check-in time is 4:00 PM. Check-out time is 11:00 AM.
Please call either toll free 1-800-663-7476 or local (250) 383-7137 to reserve, quote the code "Swiftsure 2018". This rate is not available online, it is exclusive to direct bookings.
The hotel is a stunning Victorian landmark that dates back to the historic gold rush era of the region. Beautifully renovated, it offers some of the most unique activities in Victoria, all right downtown! With eight spots linked under one roof, the Strathcona Hotel is home to a variety of entertaining, fun and relaxing venues including:
Distrikt Nightclub, where Mike Turner's Startline Seminar, Swiftsure 2017 Awards, and Skipper's Meeting is held
The Sticky Wicket Pub,
The Clubhouse Grill, Lounge & Latenight,
The Games Room Bar,
World Famous Big Bad John's Hillbilly Bar,
The Rooftop Surfclub & Beach Volleyball, and
The Strath Ale, Wine & Spirit Merchants
---
Spinnakers Brewpub & Guesthouses offers accommodations for 2018 Swiftsure participants and guests.
Located on Victoria's Inner Harbour, Spinnakers is a sight to see. We were a pioneer of the North American craft-brewing renaissance & are Canada's oldest brewpub.
Indulge & relax in our 1884 Heritage House, our contemporary Garden Suites or in our one bedroom bungalow. Featuring double soaker jetted tubs, rain showers, fireplaces, patios, queen beds, period furnishings, original artwork & much more.
When you come to Spinnakers you feel like part of our family. Come & experience a legend.
All bookings include: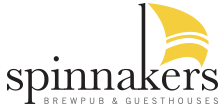 Hot Breakfast of your Choice in the Restaurant
Complimentary Beer & Truffle Pairing
Free Wi-Fi & Parking
10% Discount on Rates starting at $179/night, valid May 24 – 29, 2018

Please quote 'Swiftsure Race 2018' for reservations.
Contact spinnakers@spinnakers.com or toll free 1.877.838.2739
---