The following hotels offer special rates for 2016 Swiftsure competitors and their family and friends. Please show your support by selecting a Swiftsure Preferred Accommodation Partner for your stay.
For our American racers, family and friends, US$ exchange to Canadian$ is a real bargain!
---
Harbour Towers Hotel & Suites (345 Quebec Street) is offering special Swiftsure 2016 prices May 23 – June 1 plus: 

Discounted Parking of $5 per night (regular $15 per day);
Free Daily Hot Buffet Breakfast ($14 per person value);
Please note: Specific room types are subject to availability and therefore we recommend reservations be made as quickly as possible to avoid disappointment.
For residential views: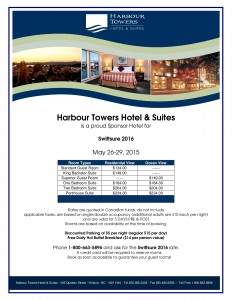 Standard Guest Room $134.00;
King Bachelor Suite $149.00;
One Bedroom Suite $164.00;
Two Bedroom Suite $204.00.
For ocean views: 
Superior Guest Room $149.00;
One Bedroom suite for $184.00;
Two Bedroom suite $204.00;
A Penthouse suite is $234.00.
These rates are quoted in Canadian funds, based on single or double occupancy (additional adults are $10.00 each per night), and do not include applicable taxes.  These group rates are valid for 3 days before and 3 days after Swiftsure, subject to availability.  Call 1-800-663-5896 and  ask for the "Swiftsure 2016" rate.
---
Strathcona Hotel room rates for Swiftsure 2016; the following room rates and types are available to Swiftsure racers, their family and friends for May 25 – May 31:
One queen bed- $95.00/night plus taxes (max occupancy 2 people)
Two twin beds (two singles)- $95.00/night plus taxes (max occupancy 2 people)
Two Queen beds- $105.00/night plus taxes (max occupancy 4 people)
All rates based on double occupancy; add $10.00 plus taxes per person were rooms can accommodate more than two people.
All rooms include complimentary Wi-Fi as well as continental breakfast from 7:30-10:00 am.  Hotel is 100% non-smoking.  Parking is available at a nightly rate of $10.00 per car. Check-in time is 3:00 PM. Check-out time is 11:00 PM.
Please call either toll free 1-800-663-7476 or local (250) 383-7137 to reserve, quote the code "Swiftsure 2016". This rate is not available online, it is exclusive to direct bookings.
The hotel is a stunning Victorian landmark that dates back to the historic gold rush era of the region.  Beautifully renovated, it offers some of the most unique activities in Victoria, all right downtown!  With eight spots linked under one roof, the Strathcona Hotel is home to a variety of entertaining, fun and relaxing venues including:
Distrikt Nightclub, where the Skipper's Meeting is held
The Sticky Wicket Pub,
The Clubhouse Grill, Lounge & Latenight,
The Games Room Bar,
World Famous Big Bad John's Hillbilly Bar,
The Rooftop Surfclub & Beach Volleyball, and
The Strath Ale, Wine & Spirit Merchants
---
Spinnakers Brewpub & Guesthouses offers accommodations for 2016 Swiftsure participants and guests.
Located on Victoria's Inner Harbour, Spinnakers is a sight to see. We were a pioneer of the North American craft-brewing renaissance & are Canada's oldest brewpub.
Indulge & relax in our 1884 Heritage House, our contemporary Garden Suites or in our one bedroom bungalow. Featuring double soaker jetted tubs, rain showers, fireplaces, patios, queen beds, period furnishings, original artwork & much more.
When you come to Spinnakers you feel like part of our family. Come & experience a legend.
All bookings include: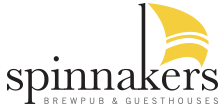 Hot Breakfast of your Choice in the Restaurant
   Complimentary Beer & Truffle Pairing
   Free Wi-Fi & Parking
   10% Discount on Rates starting at $159/night, valid May 26 – June 1, 2016

Please quote 'Swiftsure Race 2016' for reservations.
Contact spinnakers@spinnakers.com or toll free 1.877.838.2739
---
Hotel Grand Pacific (463 Belleville Street) is pleased to welcome Racers, friends, family and fans for Swiftsure 2016.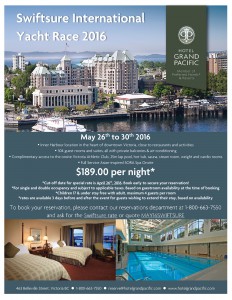 At the Hotel Grand Pacific, you will experience the little touches that set us apart from the rest. Like complimentary high-speed wireless, fresh air and an array of views from your private balcony, mini-refrigerators, flat panel LCD HDTV, in-room safe and air conditioning. Beautiful amenities and interesting and innovative food and beverage choices. We listen — and work hard to ensure your stay is unique, personalized and memorable. And always there is the warmth of a smile.
The Hotel Grand Pacific offers many great amenities including:
Location in the heart of downtown Victoria, across the street from the Victoria Inner Harbour, next door to the Parliament Buildings, walking distance to everything in downtown Victoria. Close to the Swiftsure action.
304 guest rooms and suites, all with private balconies & air-conditioning
Many dining options such as the Pacific Restaurant open for breakfast, lunch and dinner as well as the Courtyard Café which is great for "grab and go".
Wonderful daily buffet breakfast is only $22.50 +tax +gratuity
Early bird 3-course dinner from 4:30 – 6 PM is $17.95 +tax +gratuity
Complimentary access to the onsite Victoria Athletic Club (14,000 sq. ft.), 25m lap pool, Jacuzzi, sauna, steam room, weight and cardio rooms
Sora Spa (Japanese for Sky) which offers some very traditional and some unique Asian inspired treatments such as a Thai Stem Massage; and also offers a full range of esthetics and spa packages; Registered Massage Therapy also available.
$189.00 per night*To book your reservation, please contact our reservations department at 1-800-663-7550 and ask for the "Swiftsure" Rate or quote "MAY16SWIFTSURE".

*based on single and double occupancy and subject to applicable taxes and availability
*children 17 & under stay free with adult, maximum 4 guests per room
*rates are available 3 days before and after the event for guests wishing to extend their stay, based on availability
Unique Eco Initiatives at the Hotel Grand Pacific:
The Cardio equipment in the hotel's onsite Victoria Athletic Club harnesses the energy created during a workout, and sends that energy to the hotel's main power grid where it is used as electricity.
The Hotel Grand Pacific is the only hotel in Victoria with Solar Panels installed. The energy created helps in heating the water in the hotel.  As an example of the energy created in its very first month of use in May 2014 – the panels provided enough energy to run the large chandelier in the Hotel's lobby on full power for 24 hours a day for 4.5 years!
Heating/Cooling System – The Hotel Grand Pacific is the only hotel in Victoria with this new and highly energy efficient system installed.  This is expected to provide over $80,000 per year savings in the hotel's gas bill.