Downtown Victoria Business Association
Downtown Victoria Business Association is a Swiftsure sponsor starting in 2018.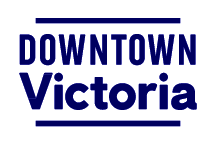 DVBA is the association that represents business owners downtown who promote and support each other, generating new business in the downtown core. They also support Downtown Victoria Events like the Swiftsure International Yacht Race.
If you're a visitor to Victoria, the DVBA provides information about shops and businesses in the city, and includes information about parking.
If you're a business in Victoria, the DVBA will keep you informed about changes which you'll be interested to know and contains the member's directory.
Swiftsure is proud to promote and support the DVBA. Marketing Manager Anne-Sophie Dumetz happily accepted Swiftsure's recognition of the significant contribution of DVBA to Swiftsure.