Swiftsure's TWO ISAF certified appointees; John Abel & Mike Turner
BC Sailing announced on November 12, 2015 that the International Sailing Federation now includes two appointments of members from the Royal Victoria Yacht Club in prestigious positions. They are both actively engaged with the Swiftsure International Yacht Race.
John Abel, Swiftsure's PRO, has been appointed as an International Race Officer. John is one of just 3 IRO's in BC of the 7 in Canada, and of which there are only about 200 in the world.
John Abel has raced since age 12 in many, many sailing craft. He has been, and is, very actively involved with the BC Sailing Association and Canadian Yachting Association. Over the last decade, John has worked toward this international certification – a rigorous process he tackled with gusto. Last fall, Swiftsure wrote an article about John as we were excited that John accepted the role of Swiftsure's Principal Race Officer, a role in which he will continue and now with even greater stature in the racing community.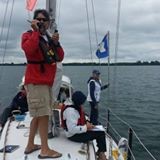 Presently, John is Chair of Sail Training & Youth Programs and Principal Race Officer for the Swiftsure International Yacht Race of Royal Victoria Yacht Club and is President of BC Sailing.
Michael Turner is an experienced match and team race umpire and active racer. With more than 40 years of experience, he has competed in everything from dinghies to 12m yachts, racing round the buoys, long distance, and offshore. Mike has served on international juries at several World and Continental championships throughout North America including the 2015 Pan AM Games. He has many years of experience chairing protest committees for major local events including Swiftsure International Yacht Race, the Oregon Offshore Race and the Van Isle 360.

Michael Turner will continue as Swiftsure's Chief Judge.
John and Mike are truly remarkable – both are highly respected and they reflect the great pride the Royal Victoria Yacht Club embodies in the field of international yacht racing. John and Mike now qualify to act as Race Officer and Jury, respectively, at any level of event including the Olympics!