Swiftsure Technical Night held March 28th at Royal Victoria Yacht Club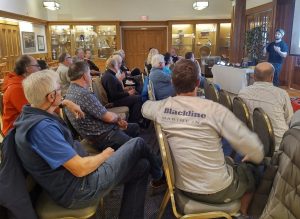 On a blustery March night, the 4th annual Swiftsure Technical Night was presented by 4 Canoe Cove Marine Community companies; Vector Yacht Services, Raven Marine, Blackline Marine, and Canoe Cove Marina & Boatyard opened the evening's speakers.
Don Prittie, Canoe Cove Marina's General Manager, shared remarks about the unique nature of the Canoe Cove Marine Community, where any marine problem can be addressed by the over 20 businesses that work cooperatively. The setting is well worth the drive – the 'secret' is becoming rather well known. This night instructed on various aspects of boat maintenance and organization for sailors and racers, and even boaters would learn something they didn't know.
Swiftsure wholeheartedly recommends the four companies – Swiftsure's Platinum Sponsors:
Canoe Cove Marina and Boatyard – Don Prittie, General Manager
Blackline Marine Inc. – Brent Jacobi, Co-owner and Rigging & Metal Fabrication Manager
Raven Marine – Gavin Johnstone, Electrical/Electronics Technician
Vector Yacht Services – Todd Koroll, General Manager




This year, Gavin Johnstone, Electrical/Electronics Technician with Raven Marine, spoke about NMEA 2000 systems. This approach to setting ones' boat electronics so they each communicate relatively seamlessly, even though they may not have a direct link to each other, was enthusiastically received. After Gavin finished his presentation, the questions continued for some time. Gavin, who has had a lifelong fascination with electronics, is a remarkably young man to have developed such deep expertise in his field. It was a privilege to have him present this timely topic.
Todd Koroll, General Manager of Vector Yacht Services, did a presentation on small engine maintenance – surprising everyone by bringing in an engine on a trolley so he could walk the crowd through the components of engines and trouble-shooting problems – regardless of size, the general components of an engine are similar. End of season engine maintenance, or when the boat won't be used for a period, was an important message.
Brent Jacobi, Rigging and Metal Fabrication Manager with Blackline Marine Inc. was, as always, engaging and provocative in his observations about standing rigging. He spoke of the challenges and opportunities when working on the mast, whether unstepped or standing, and had entertaining examples of how to approach fixes and maintenance that any sailboat owner could do without requiring an expert – and, perhaps most importantly, when to consider asking Brent to drop by to assess the mast before making big changes. Brent spoke about the construction of masts, running electrical wiring through it and how to protect or prevent chafe, crimps and electrolysis leakage.
Each presenter is deeply knowledgeable, as was evidenced by the lively question session at the end.
The expert presenters and their companies provided Swiftsure racers useful and fascinating information they couldn't possibly acquire in a more efficient session.