Cinderella Makes Her Finish
Ballad, a Cal 43 from Anacortes Yacht Club, finished at 2:24 AM.
And Cinderella, an Ericson 35-2 from Sloop Tavern Yacht Club, found her way home, slipping across the finish line at Ogden Point at 3:05 AM, making Cinderella the final boat of the 2017 Swiftsure International Yacht Race to finish within the time line of 6 AM Monday morning.
The crew were met with smiles and hugs from Swiftsure Race Chair Vern Burkhardt while soup from Volunteer Coordinator Judie Abel was presented. The Principal Race Officer John Abel congratulated the crew on a fine finish. For one of the crew, Catherine Terrana of Bayville, NY, this was not only her first race but also her first time ever sailing.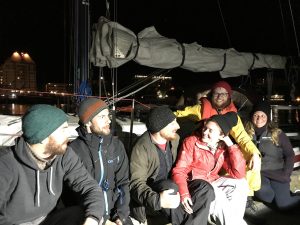 In the wee hours, Cinderella's crew talked about the fog. This was heard of a lot during the Swiftsure race.
Congratulations to Cinderella and crew on finishing within the 6 AM Monday deadline and becoming the 2017 recipient of the Lanterne Rouge.
Charlotte Gann