SPOT2 GPS Satellite Messenger
When you're stepping off the grid, take the SPOT Satellite GPS Messenger™.100% satellite technology provides emergency communications, personal messaging and location-based tracking. SPOT's global network of satellites let's you send messages from almost anywhere on the planet with your GPS location. Whether you're hiking, fishing off-shore, 4-wheeling, driving across country with your family or working remotely outdoors, SPOT helps you stay connected.
"I do extensive work offshore on ships and deliver boats. My SPOT messages to my family and delivery customers have been sent from the Bering Sea, Europe, USA, offshore Atlantic and the Pacific. My family loves the messages, tracks me and goes to bed at night comfortably knowing is all OK."

– Mike Bancroft
Features
Advanced GPS
GPS acquisition light
Message sending indicator light
Enhanced antenna performance
Safety covers on SOS and Help buttons
Custom message function
Dedicated Track Progress button
Illuminated buttons
Includes armband case with carabineer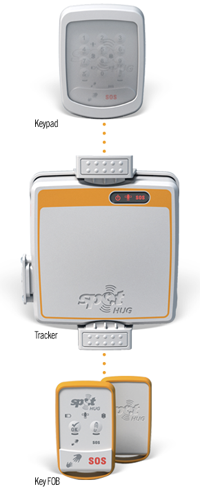 Using state-of-the-art satellite technology, SPOT HUG monitors a virtual security perimeter around your boat. SPOT HUG will instantly alert the appropriate parties even from remote areas beyond cellular coverage. By establishing a virtual security perimeter around your boat, SPOT HUG detects Unauthorized Movement when your boat moves more than 500 meters without your authority and the key FOB is not present. A notification with the GPS position is automatically sent to the Asset Monitoring Center who alerts local authorities (where available). Connect SPOT HUG to up to 4 monitoring sensors for battery, high water, engine/ignition or other external contacts. SPOT HUG will alert you via SMS and/or email when an event happens. (Additional service required). SPOT HUG provides reliable, location-based messaging via satellite independent of VHF radio. Let loved ones know where you are and that you're OK or send a message for help in an emergency. Includes SPOT functionality for Check-in/OK, SOS, Help and Track Progress.
Features
100% satellite-based for maximum coverage
Unauthorized Movement alert notification to Asset Monitoring Center
Receive Daily Status update message with boat's location and any sensor notifications
Sensor Alert monitoring and notification for bilge, engine and battery monitoring**
Configure up to 4 monitoring sensors**
Key FOB for easy wireless activation
Wireless Keypad security and messaging system
Uses battery power or direct line power
Easy to install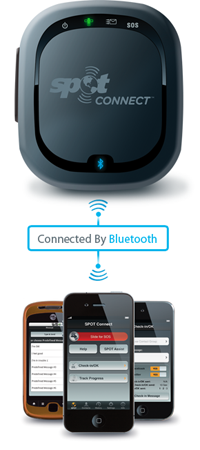 Today's smartphones provide a level of social connection far beyond what we imagined just a few years ago. But when you go beyond the reach of the grid, your smartphone needs the help of SPOT Connect to keep you in touch with friends, family, and emergency personnel. Simply pair your smartphone with SPOT Connect, and get connected to a global satellite network that lets you send messages and GPS coordinates from virtually anywhere on the planet: update Twitter and Facebook, send email and text messages, request non-emergency help from professional service providers and more! And in the case of a critical emergency, send an SOS message requesting emergency assistance.
Features
Send messages from virtually anywhere via satellite
Type & Send message (41 character) or Predefined message (120 character) options**
Track Progress on Google Maps™ or SPOT Adventures page
Integrates with SPOTadventures.com and popular social destinations
Smartphone app for operation and detailed status
On device SOS button for standalone emergency operation
To Locate a SPOT Dealer, go to:
Our Find a Retailer Page.
---
*Service Plan activation required, see SPOT Basic Service Plans for more info.
**Additional charges apply for Type & Send and Alarm Monitoring service plans